João Alberto Silveira Freitas was beaten to death in the parking lot of a Carrefour supermarket in southern Brazil by two of the store's security guards following an altercation inside the premises.
The killing of the black man by the white employees late last month in Porto Alegre triggered unrest across Brazil, including protests and vandalism — much of which was directed at French group Carrefour for its perceived inaction on racism over many years.
But the death has also prompted a broader reckoning of Brazil's corporate sector. As protest movements, such as Black Lives Matter, gather steam and provoke change in companies across North America, Brazilian businesses have been accused of making little effort to address the imbalances in opportunities and income in one of the world's most unequal nations.
Despite accounting for almost 60 per cent of the country's 210m population, black Brazilians occupy less than 5 per cent of executive positions and 5 per cent of seats on company boards — and this representation has barely improved in the past decade. Black Brazilians, typically defined to include mixed-race citizens, also earn on average 50 per cent less than white Brazilians, according to the Centre for the Study of Labor Relations and Inequalities.
As incidents such as the killing of Silveira Freitas proliferate and echo through social media, companies that do not act on racism increasingly risk reprisals, ranging from boycotts to vandalism. The nation, meanwhile, must grapple with the fallout of the discontent.
Please use the sharing tools found via the share button at the top or side of articles. Copying articles to share with others is a breach of FT.com T&Cs and Copyright Policy. Email licensing@ft.com to buy additional rights. Subscribers may share up to 10 or 20 articles per month using the gift article service. More information can be found here.
https://www.ft.com/content/a426cdb4-b806-48f1-a49d-73be514ccd00

"We avoid places where we will be treated badly. I avoid consuming from renowned companies," said Deisy Dias, a businesswoman from São Paulo, who says racism is an everyday occurrence for black Brazilians. She admits to growing increasingly impatient with the status quo. "Boycotts don't have enough scale to make the necessary impact. Burning the supermarkets — the more radical things — they will have a greater effect in the short term." Following Silveira Freitas's death, Carrefour's global chief executive Alexandre Bompard wrote his condolences on Twitter, calling the footage of the incident "unbearable". In addition to a $5m fund to fight racism in Brazil, the company said black Brazilians would represent at least 50 per cent of annual new hires.
"BEFORE, THEY SAID THERE WERE NOT ENOUGH BLACK BRAZILIANS WITH HIGHER EDUCATION. BUT NOW THERE ARE AND THEY ARE STILL NOT HIRING RAPHAEL VICENTE, CO-ORDINATOR OF THE BUSINESS INITIATIVE FOR RACIAL EQUALITY" Raphael Vicente, co-ordinator of the Business Initiative for Racial Equality
But the group — alongside many Brazilian companies — has been accused of acting too slowly and only providing superficial remedies that do not address the structural issues in the labour force. Following the death, Carrefour Brazil was this month removed from an index of companies with the best environmental, social and governance practice, run by S&P Dow Jones Indices and B3, a Brazilian stock exchange.
"Many companies are still thinking about racism superficially and need to start thinking institutionally," said Daniel Teixeira, a researcher at the Center for the Study of Labour Relations and Inequalities.
"The black worker went from slavery to informal worker with no labour rights. Sadly, this discussion [over structural racism] is only happening because of a death at Carrefour."
Raphael Vicente, co-ordinator of the Business Initiative for Racial Equality, points out that between 2000 and 2013, the number of black Brazilians in higher education almost quadrupled but this has still "not been reflected in their presence in large companies".
"Before, they said there were not enough black Brazilians with higher education. But now there are and they are still not hiring. We call it 'invisible walls'."
Many believe there needs to be a strong financial incentive for companies to change, with analysts pointing to the example of the Amazon rainforest. Threats of divestment from international investors this year spurred a groundswell of support from corporate Brazil to protect the jungle from deforestation.
"Unfortunately, Brazilian companies only respond to events that hurt their value, like with [iron ore miner] Vale," after the Brumadinho dam collapse last year, said Simone Pasianotto, chief economist at Reag Investimentos. "We are still crawling on the issue of the responsibility of investors and companies on race. The investor needs to understand the opportunity for society's gain and not just financial gain."
Despite the lack of movement from the corporate sector, however, the issue is gaining political traction. Orlando Silva, a federal lawmaker, last month proposed legislation that would make businesses responsible for incidents of racism that occurred on their premises. "We have to make responsible those who have responsibility. Companies cannot be allowed to get away with it for longer. No more blaming security guards and parking attendants," he said
A handful of companies are attempting change. Ambev, the local subsidiary of Anheuser-Busch InBev, is recruiting more black Brazilians to traineeship programmes, and cosmetics group Avon has pledged to ensure black Brazilians make up at least 50 per cent of its workforce before the end of this decade.
"[But] the majority of companies act like the majority of the population, which is to deny the existence of racism in Brazil: 'If it does not affect me, it doesn't exist. If it doesn't impact my profits, then all good' is their thinking," said Luciano Cequeira, a public policy researcher at the Rio de Janeiro State University.
"Racism has always been there, but we are now sick of being silent," said Tatiana Carvalho Costa, a teacher from Belo Horizonte.
"Companies will not take action if they are not disturbed. If we can't stop consuming from them, we will start complaining. If we do it massively, they will have to act."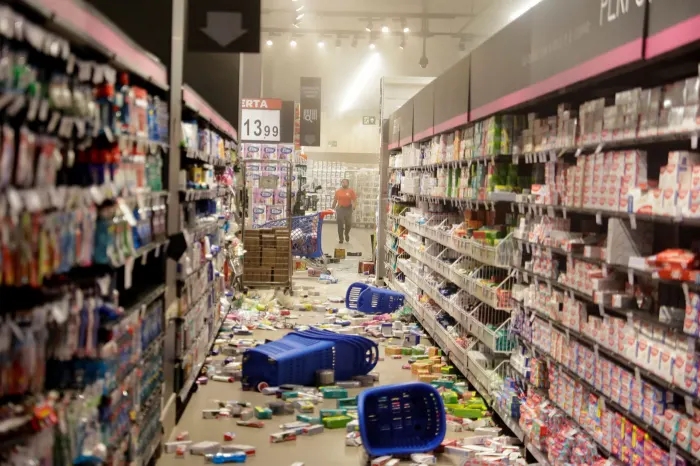 Carrefour supermarkets across Brazil were targeted by anti-racism protesters following the killing © AP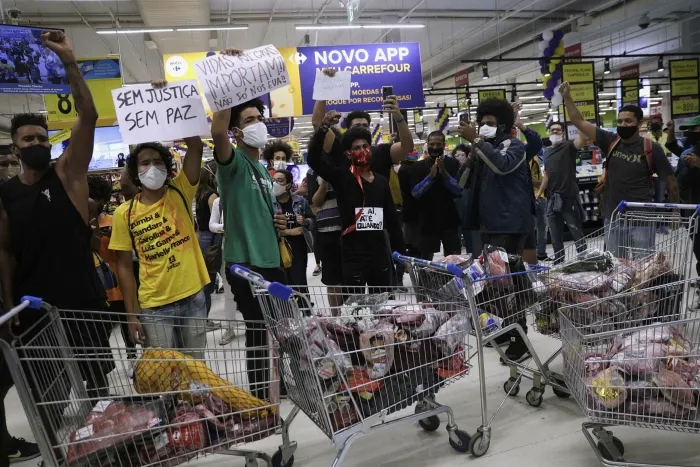 A protest in a Carrefour store in Rio de Janeiro. The supermarket said sales were unaffected by blockades and an associated boycott © REUTERS